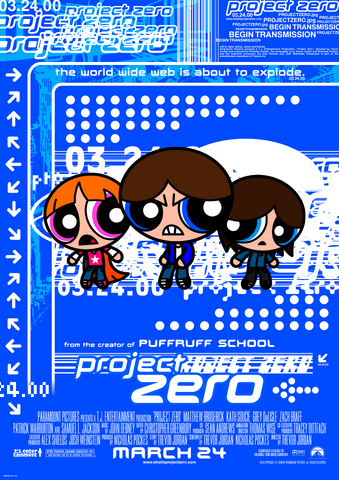 There is no description yet. Add a description.
Appears on these pages

of
Project Zero is a 2000 American animated science fiction comedy film produced by TjsWorld2011...

Hey, guys, this is TjsWorld2011/Tjdrum2000 again with another wiki. This one is dedicated to...
File history
Click on a date/time to view the file as it appeared at that time.
Date/Time
Thumbnail
Dimensions
User
Comment
current
17:27, February 3, 2019
1,361 × 1,926

(516 KB)

Tjdrum2000 (wall | contribs)
Fixed credits
19:48, January 30, 2019
1,361 × 1,926

(544 KB)

Tjdrum2000 (wall | contribs)
Centered
22:14, August 25, 2018
1,361 × 1,926

(568 KB)

Tjdrum2000 (wall | contribs)
Fixed logo
16:56, August 5, 2018
1,361 × 1,926

(542 KB)

Tjdrum2000 (wall | contribs)
16:16, August 5, 2018
1,361 × 1,926

(539 KB)

Tjdrum2000 (wall | contribs)
New concept
01:14, April 16, 2018
1,361 × 1,926

(724 KB)

Tjdrum2000 (wall | contribs)
Changed TW2011 logo
20:09, April 1, 2018
1,361 × 1,926

(722 KB)

Tjdrum2000 (wall | contribs)
New TW2011 logo
21:44, February 7, 2018
1,361 × 1,926

(735 KB)

Tjdrum2000 (wall | contribs)
New background/logo
19:14, December 16, 2017
1,361 × 1,926

(584 KB)

Tjdrum2000 (wall | contribs)
Redone
00:14, November 30, 2017
1,274 × 1,871

(537 KB)

Tjdrum2000 (wall | contribs)
Redone
02:20, October 20, 2017
1,479 × 1,911

(698 KB)

Tjdrum2000 (wall | contribs)
Redid logos
14:32, September 30, 2017
1,479 × 1,911

(696 KB)

Tjdrum2000 (wall | contribs)
Redid credits
00:37, September 13, 2017
1,479 × 1,911

(721 KB)

Tjdrum2000 (wall | contribs)
Fixed credits
00:03, September 13, 2017
1,479 × 1,911

(721 KB)

Tjdrum2000 (wall | contribs)
Fixed credits
18:10, September 10, 2017
1,479 × 1,911

(725 KB)

Tjdrum2000 (wall | contribs)
Changed TW2011 Ent. logo
23:32, August 8, 2017
1,479 × 1,911

(726 KB)

Tjdrum2000 (wall | contribs)
Redid credits and changed soundtrack label and Paramount logo
22:11, July 31, 2017
1,479 × 1,911

(695 KB)

Tjdrum2000 (wall | contribs)
Redrawn
19:12, June 28, 2017
1,479 × 1,911

(975 KB)

Tjdrum2000 (wall | contribs)
Redid credits in bolder font
23:22, June 27, 2017
1,479 × 1,911

(968 KB)

Tjdrum2000 (wall | contribs)
Redid billing block to look more like Paramount's main billing blocks at the time and added taglines
14:15, May 10, 2017
1,479 × 1,911

(1,008 KB)

Tjdrum2000 (wall | contribs)
Had to redo billing again since I changed the cast order
02:20, April 12, 2017
1,479 × 1,961

(1,002 KB)

Tjdrum2000 (wall | contribs)
Redid billing block yet again, hopefully for the final time for now.
01:10, January 29, 2017
1,479 × 1,961

(1,023 KB)

Tjdrum2000 (wall | contribs)
Redid billing block again
22:47, January 22, 2017
1,479 × 1,961

(1,023 KB)

Tjdrum2000 (wall | contribs)
Redid billing block/minor changes
03:12, January 22, 2017
1,479 × 1,961

(1.02 MB)

Tjdrum2000 (wall | contribs)
Fixed some parts
23:09, January 11, 2017
1,479 × 1,961

(1.05 MB)

Tjdrum2000 (wall | contribs)
Redone
14:47, November 27, 2016
794 × 1,050

(316 KB)

Tjdrum2000 (wall | contribs)
Metadata